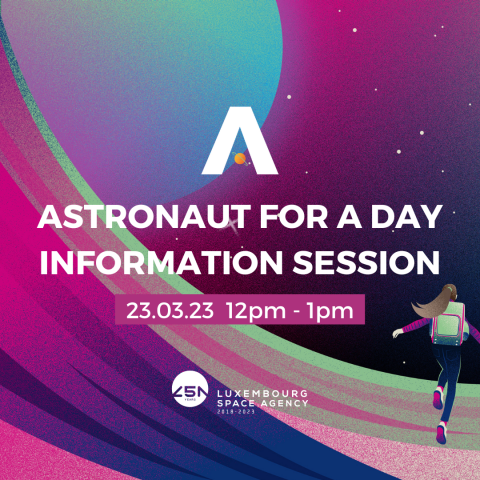 Organised by the Luxembourg Space Agency in collaboration with the Ministry of Economy, the Ministry of Education and the Ministry of Sports, the national competition "Astronaut for a day" aims to promote the space sector in particular among young people. The competition is open to all young people aged between 13 and 18 years old and who are enrolled in a school in Luxembourg.
Do you want to know more about a zero gravity flight? Are your children eligible to participate to the contest? What does it mean to be an ambassador for space in Luxembourg?
In order to provide more information and answer possible questions about the contest, the Luxembourg Space Agency is organizing free online information session which will take place on Thursday, March 23rd from 12:00 to 13:00.
Programme:
12:00 - 12:30 Presentation of the contest and zero gravity flight, admission criteria, registration and selection process
12:30 - 13:00 Time for Q&As
Language: English or French
Register HERE