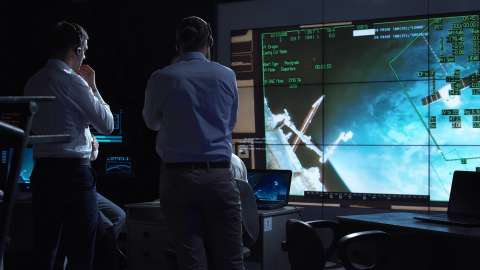 The Luxembourg Space Agency actively supports students in the transition from education to full-time employment in the space industry with a dedicated training programme.

Luxembourg Young Graduate Trainee programme
The Luxembourg Young Graduate Trainee (LuxYGT) programme offers a wide range of internships at the European Space Agency for Luxembourg students each year with master's degrees. The internships take place at different ESA centers, offering successful applicants an opportunity to obtain valuable experience in the development and operation of space missions. In addition, they also gain a rich personal experience of living and working in another country and in a diverse and international environment.
The high-calibre programme usually lasts for two years and is renewed after the first year.
Terms of Participation
The LuxYGT programme was created for graduates who are Luxembourg nationals and who earned their degree (Master level) within the past two years.
Students in the last year of their Master's programme can also apply to the programme, and may be selected subject to the condition that they have obtained the required qualification by the date they sign the contract.
Internship Status
The contract will be entered into between ESA and the intern for the duration of the internship. Interns who sign the contract commit to completing their internship without interruption and on an ongoing basis.
Rather than being employed by ESA, interns will complete their internship and perform any other duties assigned to them within the ESA organisation. They will fall under the direct authority of the Director General of the ESA or his representative.
Interns will be subject to the employment regulations applicable at the ESA.
Candidates will be entitled to the following benefits:
Monthly compensation of approximately EUR 2,400, exempt from taxes (including accident and sickness insurance)
Reimbursement of travel expenses during the intern's employment and on termination of their contract (based on return journey)
Reimbursement of relocation expenses when first settling in the new location in the amount of EUR 2,400 (fixed amount), payable as a lump sum
Paid annual leave (2.5 working days for each month of service)
Candidate Application Process
Candidates must submit an application to luxygt@space-agency.lu containing the following documents:
Cover letter
CV
Copy of degree/diploma earned
Applicants who are currently in their final year of study must submit proof of enrolment in the educational institution they are attending.
Copy of an ID
Any other documents which could support the candidate's application may also be added to the application package.
English and French are the working languages at the various ESA centres. Knowledge of other languages is considered an advantage.
Candidates are free to apply for multiple internship placements.
The next call for applications will take place during the first half of 2020.
For more information, contact Asmira Skrijelj.