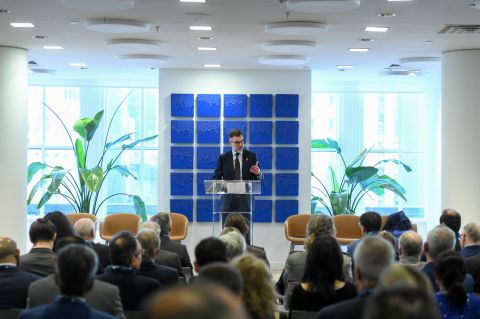 New York, 10 November 2022.
On the 10th and last floor of Saks, located down the 5th avenue, right next to St Patrick's Cathedral, chairs were being set and the last technical tests were running. Everything was ready to welcome the 150 people gathered for the Luxembourg Space Finance event.
Organized for the last time in 2019, the event aimed to celebrate the latest achievements and progress within the space ecosystem in Luxembourg, to discuss the gaps in investment and challenges companies and investors have experienced and further strengthen the EU and US network and cooperation within the space sector.
After the opening speeches of H.E. the Crown Prince of Luxembourg, and Mr Franz Fayot, Minister of the Economy, Mario Grotz, President of the BoD of the Luxembourg Space Agency presented the national ecosystem, strategy and funding tools.
A round table discussion moderated by Louis Zacharilla then addressed the topic of "the global commercial space industry and unlocking investments" with the participation of Mike Collett, Managing Partner, Orbital Ventures; Jonathan Baliff, CFO, Redwire ; Will Porteous, General Partner and COO, RRE Ventures ; Andy Bowyer, CEO, Kleos Space and Jason L. Kessler, Program Executive, NASA SBIR/STTR Program.
The discussions highlighted the leading role of Luxembourg in setting the example for commercial space development, the long-term commitment of the government towards the space industry and the key attraction points of Luxembourg for space companies.
"Luxembourg has a unique history in space because of SES. And with these moves the government has created an environment that could create several more SES's in the future. I think we can see the early glimmers of that today. The level of market demand for these capabilities is extraordinary, and a lot of the value will flow back to Luxembourg." mentioned Will Porteous, General Partner and COO, RRE Ventures.
"During Apollo, NASA led solo. For Artemis, international partnership is foundational and we are grateful Luxembourg was an initial signatory on the Artemis Accords. As the space economy expands, it includes new, smaller companies capable of building and launching spacecraft and lunar landers, and the fresh perspective and commitment to commercial viability Luxembourg brings is proving instrumental in the development of the space sector. Our partnership with Luxembourg can ensure the Artemis generation is diverse and space exploration serves all of humanity." emphasized Jason L. Kessler, Program Executive, NASA SBIR/STTR Program.

The event closed with a networking reception, allowing all participants to connect and exchange ideas about the topics discussed during the event.