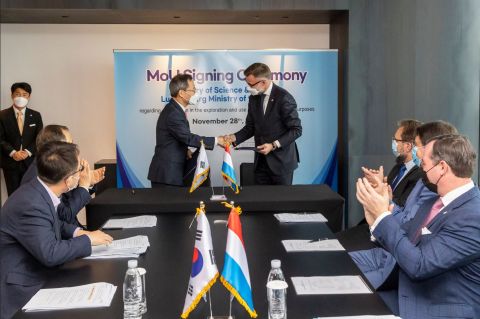 On the occasion of the Luxembourg economic mission to South Korea, HRH the Hereditary Grand Duke of Luxembourg and the Luxembourg Minister of the Economy Franz Fayot participated in the opening of the Korea Space Forum, which took place from 28 to 29 November in Seoul.
The minister of the Economy Franz Fayot signed a Memorandum of Understanding (MoU) with the Minister of Science and ICT of the Republic of Korea, Lee Jong-Ho, regarding cooperation in the exploration and use of space for peaceful purposes.
The MoU aims among others to promote and organise an exchange of information, personnel and expertise between Luxembourg and Korea in the areas of space science, technology and applications, including joint research and development; space policy, law and regulation; space exploration and sustainable utilization of space resources; and space industry and space economy in general.
It will allow the organisation of concrete cooperation activities, such as exchange of experts to participate in joint studies, research and activities for technical, operational, and regulatory aspects related to space, holding of joint conferences and symposia, promotion of educational activities in space science and technology; and will contribute to foster collaboration between the two countries' institutes and industries acting in the space sector.
Photo: © SIP / Julien Warnand