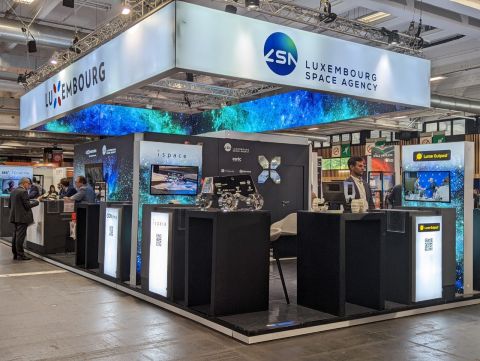 Luxembourg's role in the global space industry was well represented at this year's International Astronautical Congress (IAC) which took place at ParisExpo in Paris, France from September 18th to 22nd. At this occasion, the Luxembourg Space Agency (LSA) hosted meetings and discussions with key players at the international space conference.
The IAC - now in its 73nd year under the "Space for @ll" motto - is the world's premier space event. The international conference brings global space actors together to share ideas, new strategies, developments in academia and industry, and rising trends in the field. It is also an important networking opportunity for the industry, allowing the over 9,000+ participants who were attending the conference this year to connect on project ideas and potential partnerships.
The Luxembourg space ecosystem's significant presence at the conference included a booth hosted by the Luxembourg Space Agency featuring SES, Redwire Space, Maana Electric, ispace, Respect Us, LuxSpace, LMO, Lunar Outpost, the Luxembourg Institute of Science and Technology (LIST), EmTroniX, SPiN, Gomspace and the European Space Resources Innovation Centre (ESRIC).
Next year's edition of the IAC will take place in Baku, Azerbaijan from October 2nd to 6th, 2023.