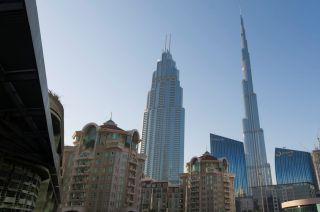 In order to promote the various sectors of the Luxembourg economy to a large Emirati and international public during the World Expo in Dubai, the Chamber of Commerce is organising several sectoral economic missions in collaboration with the Ministry of the Economy. Postponed due to the Covid-19 pandemic, Expo 2020 DUBAI will finally take place from October 1 to March 31, 2022.
In this context, an economic mission focusing on the space sector will be organised from October 24 to 30, 2021 in the United Arab Emirates, in the presence of the Minister of the Economy Franz Fayot. The mission will take place in parallel with the International Astronautical Congress (IAC) in Dubai. The IAC, which is being held for the first time in the Middle East, is the most important annual meeting of the world's space ecosystem, attracting nearly 6,000 participants from all over the world each year. For this 72nd edition, Luxembourg will be present with a national pavilion, organised with the support of the Luxembourg Space Agency, hosting 8 Luxembourg exhibitors (Gomspace, Ispace, LIST-ERIN, Maana, Offworld, Saturne Technology, SES and Spire).
To facilitate the access to the IAC for the visit of the Luxembourg delegation, the Luxembourg Chamber of Commerce will cover half of the registration fees for a maximum of two representatives per registered company. In addition to the visit and access to the IAC, the program of the economic mission includes a guided tour of EXPO 2020 DUBAI (including VIP access to the Luxembourg pavilion), as well as meetings between companies and prospects and networking events in the presence of the Minister of the Economy.
On the sidelines of these events, Franz Fayot will also have several political interviews with members of the UAE government and several major players in the space sector.
Companies interested in learning about and participating in the space mission program are invited to register online, until September 23 at the latest, via this link https://www.cc2020.lu/mission/space-mission/ .