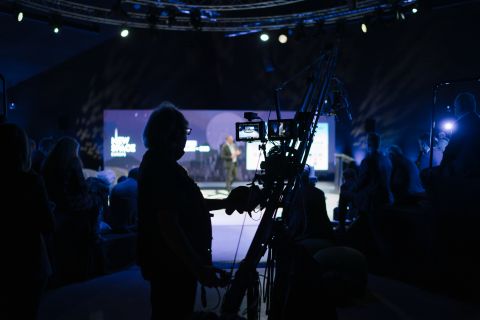 On 24 November, Luxembourg once again became the NewSpace Capital of Europe.
Organized by the Luxembourg Space Agency on an annual basis, the NewSpace Europe conference is the perfect occasion to network with representatives of start-ups, space agencies, investors and managers involved in the new space economy. It also aims to highlight the contribution of the space sector to the development of terrestrial activities, such as agriculture, maritime transport, or the automotive sector among others.
With more than 800 participants overall, this year's hybrid event organized at the "Maison des arts et des étudiants" in Esch-sur-Alzette featured a wide range of space experts, pitches, and innovations.
Minister of Economy Franz Fayot opened the ceremony with a speech on global connectivity and the Luxembourg space sector, and launched the first call of the ESRIC start up support programme. Following Mr Fayot's intervention, ESA General Director Josef Aschbacher delivered a keynote speech addressing the need to accelerate space business.
The conference included several panel discussions on topics ranging from the use of space applications to improving life on Earth, space debris and space traffic management, to the current investment climate in the space sector and the risks and opportunities it presents.
The conference ended up with a pitch competition, organized in collaboration with StartupLuxembourg, Luxinnovation and the Space Generation Advisory Council, where 6 startups competed to meet up with a potential space investor.
For more information on next year's edition, check out https://newspace-europe.lu/ and stay tuned.