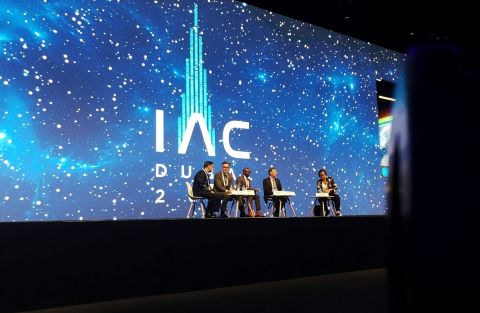 Luxembourg's role in the global space industry is well represented at this year's International Astronautical Congress (IAC) at the World Trade Center in Dubai. At this occasion, the Luxembourg Space Agency (LSA) is hosting meetings and discussions with key players at the international space conference taking place October 25-29th, 2021.
The IAC, now in its 72nd year and taking place in the United Arab Emirates for the first time, is the world's premier space event. The international conference brings global space actors together to share ideas, new strategies, developments in academia and industry, and rising trends in the field. It is also an important networking opportunity for the industry, allowing the over 4,000 participants expected this year to connect on project ideas and potential partnerships.
The Luxembourg space ecosystem's significant presence at this year's conference includes a booth hosted by the Luxembourg Space Agency featuring SES, Spire, Offworld, Maana Electric, Ispace, and Gomspace Redwire. As part of the contingent's key initiatives, Franz Fayot, Minister of the Economy, is attending several high-level meetings with officials from the United Arab Emirates Space Agency, the European Space Agency, the Italian Space Agency, the French Space Agency, and private players such as Thales Alenia Space, Airbus or Northstar. In addition, the Luxembourg Chamber of Commerce is organizing a space economic mission with 80 participants from over 50 institutions.
The conference is also the official launch pad of ESRIC's Start up Support Programme. The initiative, located in Luxembourg, will be the world's first start-up support program dedicated to space resources.