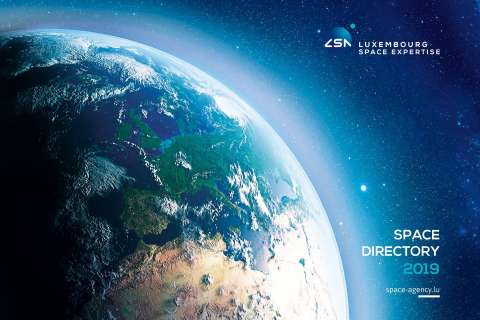 EXPLORE SPACE-RELATED BUSINESSES AND RESEARCH BODIES IN LUXEMBOURG
THE LSA 2019 SPACE DIRECTORY PROVIDES AN UP TO DATE AND IN-DEPTH PICTURE OF THE SPACE INDUSTRY IN LUXEMBOURG TODAY.
It answers questions such as:
How many space companies and research bodies are present in Luxembourg?
What is their core business?
What kind of products and services do they offer?
In which major space projects are they involved?
30 years in the making
For more than three decades, Luxembourg has been at the forefront of commercial and co-operative initiatives that have shaped today's vibrant space economy.
Now, the Grand Duchy is home to approximately 50 companies and research labs, employing more than 800 people.
The 2019 LSA Space directory puts the facts and figures of the industry at your fingertips.
A new era for space exploration
The space industry has entered a new phase of development. No longer simply the province of nation states, the era of commercial space exploration has begun.
However, space entrepreneurs do not only need to be supported, they need access to research, finance and technical services.
Crucially, they also need to be connected with one another, so they can collaborate on new and rewarding projects. The kind of work that will lead to the next generation of space technologies.
Making connections
The LSA 2019 Space Directory is designed to aid that process of discovery and connection.
It showcases the capabilities of the space industry already established in Luxembourg and extends an open invitation to potential partners from around the world. An invitation to explore the rich potential for international research and business relationships that exist in Luxembourg.
The space industry in Luxembourg includes a steadily growing group of private and public bodies, driven by a dynamic, multilingual and international work force.
Many of the players presented in the directory are well known beyond the borders of the Grand Duchy, their capabilities acknowledged by the international space community.
Space to grow
The space industry in Luxembourg has continued to grow and diversify, with three identifiable segments:
The space segment, manufacturing of satellite and instrument structures, system integration of micro-satellites, electric propulsion for satellites, robotic payloads, in-space manufacturing, composites, RF payloads, FPGA.
The ground segment, ground station development, mechanical and electrical ground support equipment, communication networks, operations.
The service segment, teleport services, satellite-based media and telecommunications services, risk management services, data analytics, environmental applications and services, aeronautical information services, analytics platform.