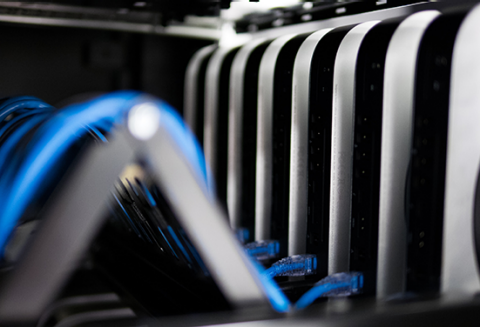 MeluXina is Luxembourg's first supercomputer. Inaugurated in June 2021, the HPC model is a BullSequana XH2000 with a computing capacity of 18 petaflops per second. It is hosted Bissen, and powered by green energy from Kiowatt, a cogeneration plant fuelled by waste wood.
Focus, at the occasion of its first anniversary, on the concrete use of the MeluXina supercomputer by two Luxembourgish space companies: the satellite operator SES and RSS-Hydro, a start-up specialized in the exploitation of data resulting from Earth observation to predict floods.
SES optimizes satellite performance with MeluXina
SES' second-generation high-performance satellite systems are software-driven and highly automated and are designed to provide connectivity services to millions of users. This means that the spectrum and transmission power of these satellites - whether O3b mPOWER or SES-17 - must be continuously allocated in the most flexible and optimal way to maximize system performance.
With MeluXina, SES was able to model and test various multi-orbit scenarios in real time, such as spectrum and power allocation, and define the optimal ways to use its communication services for the benefit of its customers. This will enable them to serve millions of users worldwide in the telecommunications, Internet services, enterprise and energy, shipboard and aircraft connectivity, and government sectors.
RSS-Hydro to optimize very high-resolution flood simulations
RSS-Hydro specializes in the research and development of remote sensing technologies, including drones and satellites, and computer simulations of water-related hazards. The company uses traditional methods and advanced machine learning models to extract actionable information from geospatial datasets and to simulate water hazards at impact level scales.
Guy Schumann, RSS-Hydro's CEO commented, "We provide scientific flood risk maps at the building scale, using the latest scientific advances combined with the latest advances in computer modeling and remote sensing technology innovation. With MeluXina, we are increasing the speed and computational performance of our flood simulations by a factor of 10, significantly enhancing the effectiveness and efficiency of our business."
About MeluXina

One year ago, Luxembourg completed its digital ecosystem with the commissioning of the high-performance computer MeluXina, which is hosted in the LuxConnect data center. Meluxina is used for research purposes, but also by companies for their innovation projects in fields as varied as weather simulation, climate analysis, automotive and aeronautical design, energy production, medicine or financial analysis.