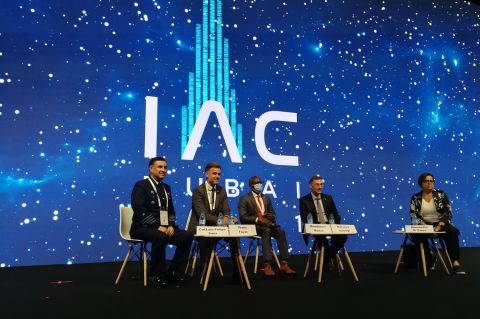 The importance of national space law and Luxembourg's collaborative efforts in the area of space policy has been the subject of a talk by Minister of the Economy Franz Fayot at the International Astronautical Congress (IAC) in Dubai on Monday, October 25th, 2021 at 14:55 GST.
Taking place at Dubai's World Trade Center, the IAC is an international conference which brings global space actors together to collaborate and connect over key topics in the space industry.
Luxembourg has played a key role in helping other nations to develop their space policies—working closely with the United Nations Office for Outer Space Affairs (UNOOSA) in developing the Space Law for New Space Actors Project. The initiative offers space law capacity-building and legal advisory services to assist emerging space faring nations on national space legislation and space policy.
The impetus for these collaborative efforts is a pressing need for nations—especially new actors—to develop space policies in line with the Outer Space Treaty, the normative framework governing outer space activities adopted under the UN in 1967.
Minister Fayot contributed to the panel discussion taking place on the first day of the week-long space conference. The talk organized by UNOOSA, titled "Space Law for New Space Actors—Fostering Responsible National Space Activities", has been held at the Sheikh Rashid Hall F. The discussion raised awareness of the international normative framework on space, and dove into how the UNOOSA project can assist nations in developing laws and policies that ensure responsible behavior in space.
Minster Fayot joined the esteemed panel alongside the following speakers:
Simonetta DI PIPPO, Director, United Nations Office for Outer Space Affairs (UNOOSA)
Humbulani MUDAU, Chief Director, Space Science and Technology, Department Science and Innovation, South Africa
Col. Luis Felipe SAEZ, Assistant Director of Space Affaire, Chilean Air Force
Kai-Uwe SCHROGL, President, International Institute of Space Law (IISL)
More information on the project here.