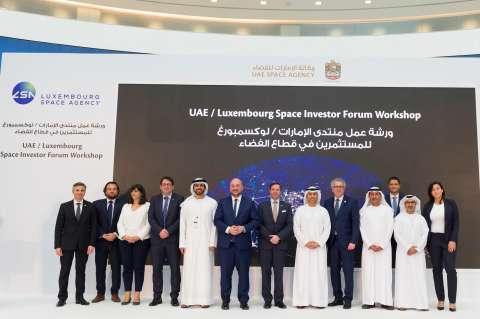 Dignitaries, business leaders and experts from the United Arab Emirates, and Luxembourg's economic mission to the UEA attended the Space Investor Forum, arranged by the two nation's respective space agencies, on Monday 27 January 2020.
The forum highlighted growing economic and political ties between the two nations and expressed a mutual interest in the continued development of the burgeoning commercial space industry.
UAE - LUX Space Investor Forum
The 'UAE - LUX Space Investor Forum' heard keynotes from H.E. Dr. Ahmad Belhoul Al Falasi, Chairman of the UAE Space Agency, and Luxembourg's Deputy PM and Minister of Economy, Etienne Schneider. Crownprince Guillaume was in attendance.
Following the opening remarks, delegates continued to explore the many possibilities for investment which the growing new space economy promises. The talks focused on investment opportunities and trends in the space industry in Europe, with a special emphasis on Luxembourg as a gateway to the European space investment market.
Also under the spotlight was the UAE Space Agency Investment Promotion Plan and the facilitating role the UAESA will provide to UAE investors.
There were also presentations from the Luxembourg Space Agency, Orbital Ventures, Newspace capital, SES and EIB. The event concluded with pitches from two space-related startups, OQ Tech and Made in Space.
Strengthening ties
Luxembourg and the United Arab Emirates have a history of friendly co-operation dating back some 40 years. In 2017, Luxembourg and the UAE signed a memorandum of understanding (MoU) to begin bilateral cooperation in space activities, with a particular focus on the exploration and utilisation of space resources.
This most recent trade mission comes ahead of Luxembourg's participation in the Expo 2020 in Dubai later this year. It was headed by Ministers Etienne Schneider and Pierre Gramegna, along with Luxembourg's Crowned prince Guillaume.