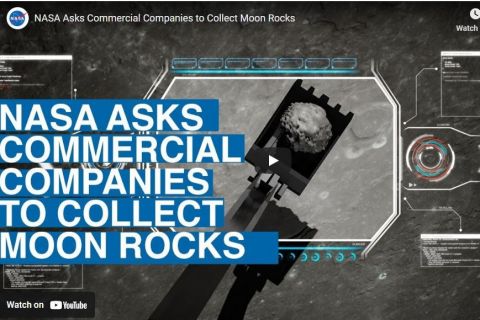 NASA announced on 3 December that it has selected four companies to collect space resources and transfer ownership to the agency: Lunar Outpost of Golden, Colorado; Masten Space Systems of Mojave, California; ispace Europe of Luxembourg, and ispace Japan of Tokyo. Overall, the new NASA contracts with these companies totals $25,001.
Space Resources will play a key role in NASA's Artemis program and future space exploration generally. The ability to extract and utilise extraterrestrial resources will ensure that Artemis operations can be conducted in a safe and sustainable fashion in support of establishing a permanent human presence on the lunar surface. Moreover, in-situ resource utilisation (ISRU) will play a vital role in a future human mission to Mars. Like many other operations, ISRU activities will be tested and developed on the Moon building the knowledge necessary to implement new capabilities that will be necessary to overcome the challenges of a human mission to Mars.
"These awards expand NASA's innovative use of public-private partnerships to the Moon. We're excited to join with our commercial and international partners to make Artemis the largest and most diverse global human space exploration coalition in history," said Mike Gold, NASA's acting associate administrator for International and Interagency Relations at NASA Headquarters in Washington. "Space resources are the fuel that will propel America and all of humanity to the stars."
A great deal of work remains to be done to develop robust ISRU capabilities. Both robotic and human explorers will test new technologies and techniques.
What will the selected companies do?
The selected companies will collect a small amount of lunar regolith from any location on the Moon and provide imagery to NASA of the collection and the collected material, along with data that identifies the collection location. Subsequent to receiving such imagery and data, an "in-place" transfer of ownership of the lunar regolith to NASA will take place. After ownership transfer, the collected material becomes the sole property of NASA for the agency's use under the Artemis program.
NASA selected companies using the "low priced, technically acceptable" selection method.
Details about the selection are:
ispace Europe proposed collection for $5,000 following arrival in 2023 of a lander to the lunar South Pole.
ispace Japan proposed collection for $5,000 following arrival in 2022 of a lander to Lacus Somniorum on the Moon's northeastern near side.
Lunar Outpost proposed collection for $1 following arrival of a lander to the lunar South Pole in 2023.
Masten Space Systems proposed collection for $15,000 following arrival in 2023 of a lander to the lunar South Pole.
Companies must take all actions to fulfill the contracts in full compliance with the Registration Convention, Article II and other provisions of the Outer Space Treaty, as well as in accordance with NASA's other relevant international obligations. NASA will continue to publicly release data and scientific discoveries gained through safe and sustainable lunar exploration to benefit all of humanity.
About ispace
ispace is a lunar exploration company founded in 2010 and has over 100 staff and offices in Japan, Europe and the United States. ispace Europe was founded in Luxembourg in 2017 and was selected by ESA to be part of the Science Team for PROSPECT, a programme which seeks to extract water on the Moon.
ispace has raised a cumulative total investment of approximately $125 million (USD). The funding is being used to build a small commercial lunar lander, which aims to provide a high-frequency, low-cost delivery service to the Moon. Aspiring to be a gateway for the private sector to bring their business to the Moon, ispace has also launched a lunar data business concept to support companies with lunar market entry.
Takeshi Hakamada, Founder & CEO of ispace commented "We are pleased to receive these two awards from NASA for what will be a historic moment for humankind. For ispace, this collaboration with NASA in two regions where we operate shows the positive momentum for our development as an internationally operating company. For the space industry, as well as the potential for all industries on Earth, this marks the beginning of a cislunar economy where economic value can be created on the Moon, apart from Earth—but for the benefit of Earth's economy."
space, inc. (https://ispace-inc.com/)