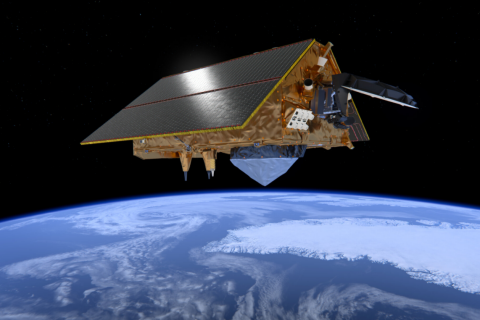 On 21 November the Copernicus Sentinel-6 Michael Freilich satellite was launched into orbit around Earth on a SpaceX Falcon 9 rocket. Using the latest radar altimetry technology, this new satellite is set to provide a new overview of ocean topography and advance the long-term record of sea-surface height measurements that began in 1992 – measurements that are essential for climate science, for policy-making and, ultimately, for protecting the lives of millions at risk of sea-level rise.
While Sentinel-6 is one of the European Union's family of Copernicus missions, its implementation is the result of a unique cooperation between the European Commission, ESA, Eumetsat, NASA and NOAA, with contribution from the CNES French space agency.
ESA's Director of Earth Observation Programmes, Josef Aschbacher, said, "I'm extremely proud to have seen Copernicus Sentinel-6 lift-off this evening and know that it's well on its way to starting its mission of continuing the measurements of sea level that are so needed to understand and monitor the worrying trend of rising seas. I would not only like to thank the ESA teams that have worked so hard to get to this point, but also the EC, Eumetsat, NASA, NOAA and CNES, and, of course, we very much look forward to further fruitful cooperation between our respective organisations."

With millions of people living in coastal communities around the world, rising seas are at the top of the list of major concerns linked to climate change. Monitoring sea-surface height is critical to understanding the changes taking place so that decision-makers have the evidence to implement appropriate policies to help curb climate change and for authorities to take action to protect vulnerable communities.
Next steps

Now in orbit, Copernicus Sentinel-6 Michael Freilich will soon pick up the baton and extend this dataset – a dataset that is the 'gold standard' for climate studies. The mission comprises two identical satellites launched sequentially – so in five years, Copernicus Sentinel-6B will be launched to take over. The mission as a whole will ensure the continuity of data until at least 2030.

Orbiting at an altitude of over 1300 km and reaching 66°N and 66°S, Sentinel-6 provides sufficient measurements to map the height of the sea surface over 95% of the world's ice-free oceans every 10 days.

The European Commission's Director-General for Defence Industry and Space, Timo Pesonen, said, "We are very pleased to welcome this newcomer to the EU's fleet of Copernicus Sentinel satellites. Copernicus Sentinel-6 Michael Freilich will enable delivering enhanced products and information concerning the oceans and the atmosphere to improve the daily lives of our citizens. The arrival of this satellite is another success for Copernicus, for Europe, for all mission partners and worldwide."

Transfer of ownership goes to the EC at the point of liftoff. ESA takes care of the early orbit phase of as well as in-orbit verification planning, and supports flight operations performed by Eumetsat. Eumetsat is responsible for the development of the ground segment and for operations after the launch and early orbit phases. Eumetsat processes the data and delivers the data products services to European users.
Luxembourg Space Agency's Data Center

In May 2019 the Luxembourg Space Agency (LSA) launched the LSA Data Center to support businesses in Luxembourg with reliable, fast and intuitive access to data streams from the European Copernicus Earth Observation programme.
The goal of the LSA Data Center is to promote the development of products and services which rely on accurate Earth Observation data that are constantly updated.
Today Sentinel-1 and Sentinel-2 products are available in the LSA Data Center. Data can be discovered, selected and downloaded from the LSA Data Center geo catalogue. Users can query the archive based on criteria such as location, orbit or cloud coverage and download data sets accordingly.
This information is provided on a full, free and open access basis. There are two levels of access: Standard and Premium. Premium, granted by the LSA, gives high-performing access to Luxembourg entities.
For more information about the LSA Data Center: www.lsa-datacenter.lu